Screw pump is an ideal pump for feeding drilling fluids to decanter centrifuge. Different from other sewage pump or trash pump, it could transfer mud to centrifuge without shearing and stirring drilling fluids. Besides that, it is used to transport drilling waste management and drilling cuttings of wet mud. The main parts of screw pump are screw shaft and screw shaft bushing. TRG series screw pump adopts high-performance motor with good-quality material. It has long life, strong mud-processing capability. Also it is chosen by many clients from drilling waste management industry.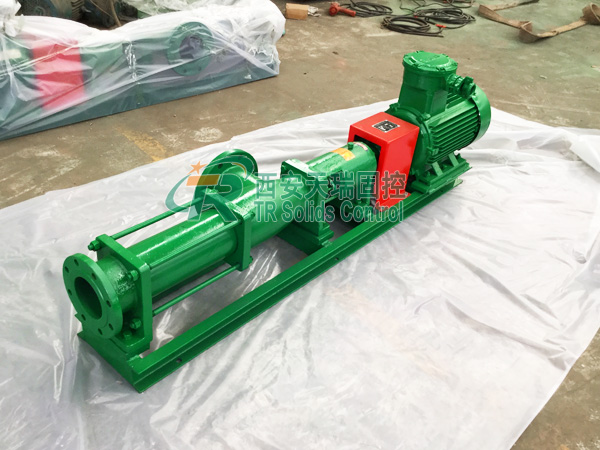 Technical Data of TRG Series Screw Pump
Model
Flow Rate
Pressure
Power
Inlet

(Inch)

Outlet

(Inch)

Ex Standard
Weight

(Kg)

Dimension
TRG10A-040
10m³/h
0.3Mpa
4kw
3
3
ExdIIBt4/IECEX/A-TEX
245
2245×320×550mm
TRG20A-055
20m³/h
5.5kw
3
3
323
2450×340×562mm
TRG30A-075
30m³/h
7.5kw
4
4
386
2761×370×600mm
TRG40A-110
40m³/h
11kw
5
5
454
3270×370×665mm
TRG50A-110
50m³/h
11kw
5
5
608
3790×400×782mm
TRG60A-150
60m³/h
15kw
5
5
649
3322×550×740mm
TRG70A-220
70m³/h
22kw
6
6
875
3740×420×785mm
TRG80A-220
80m³/h
22kw
6
6
875
3740×420×785mm
TRG90A-220
90m³/h
22kw
6
6
875
3740×420×785mm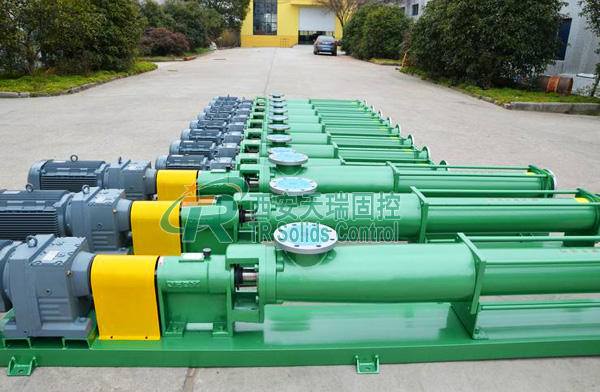 As a professional manufacturer of screw pump, TR Solids Control is well-known among clients in oil & gas drilling industry and drilling waste management. Furthermore, our hot-selling product like shale shaker, mud cleaner, mud agitator, centrifugal pump, shear pump, decanter centrifuge, jet mud mixer, mud gas separator, flare ignition device, vacuum degasser are popular. Start to contact with us now!