Drilling 
Mud agitator
Mud agitator is an important part of the drilling-fluid solids controling system. Drilling fluids agitator can be installed on drilling fluid tank, with the impeller submerged into certain depth under fluid surface to stir the fluid directly. During this process, the drilling fluid can be mixed even, and the solid particles are eliminated. In this way, it can improve solid phase dispersion, and increase the viscosity and gel strength, thus to make drilling fluid keep accordant with the requirement, provide needful fluid for drilling process, and ensure the smooth going of drilling work.Drilling mud agitator is the same as mud agitator.
TR solid control provide vertical and horizontal agitator. Horizontal mud agitator is divided into coupling type and direct type agitator. If you need a horizontal mud agitator, we recommend you use a direct type agitator. drilling mud Agitator is an ideal device for stirring, mixing liquid and preventing the solid-phase precipitation in the mixture.

Advantages of Drilling 
Mud agitator
 The gearbox adopted worm and gear. Better scuffing more reliable.
 Motor and gear box will be connected by coupling or directly. Agitation speed is more stable.
 Good heat exchange performance faster cooling down.
 Lower decibels.
 Shaft and blades are customizable.
 Durable enough, easy to install, operate ,and maintain.
 Can be used under variety condition.
Drilling Fluids 
Agitator 

Technical Parameters
Model
TRJBQ3
TRJBQ5.5
TRJBQ7.5
TRJBQ11
TRJBQ15
TRJBQ22
Motor
3kW(3.9hp)
5.5kW(7.2hp)
7.5kW(10hp)
11kW(15hp)
15kW(20hp)
22kW(28.6hp)
Impeller Speed
60/72rpm
60/72rpm
60/72rpm
60/72rpm
60/72rpm
60/72rpm
Single Impeller
600mm
850mm
950mm
1050mm
1100mm
1100mm
2 Layer Impeller
N/A
Higher:800mm
Lower:800mm
Higher:850mm
Lower:850mm
Higher:950mm
Lower:950mm
Higher:950mm
Lower:950mm
Ratio
25:1
25:1
25:1
25:1
25:1
25:1
Dimension
717×560×475
892×700×597
980×750×610
1128×840×655
1158×840×655
1270×1000×727
Weight
155kg
285kg
310kg
425kg
440kg
820kg
Shaft Length
According to tank internal height
Frequency
380V/50HZ or 460V/60HZ or Customizable
Remark
Shaft and impeller will be provided by TR, but not including in the weight & dimension.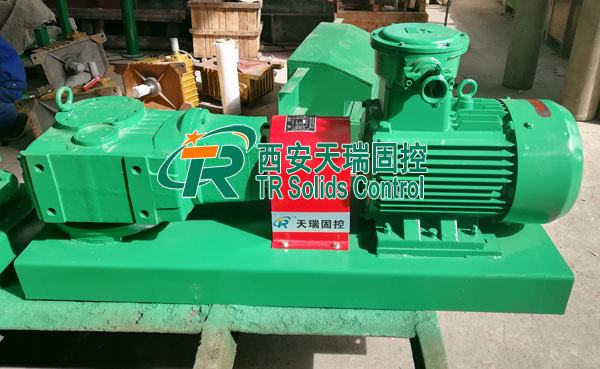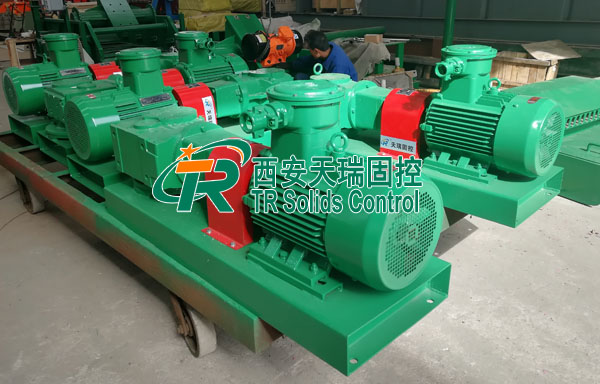 Mud agitator for drilling fluids solids control
Drilling Fluids Agitator in the mud system used to,mixing ratio and prevent to the mud tanked.TR solid control is an exporter of centrifugal pump . We are an exporter of drilling fluids mud agitator.Our factory approval the ISO9001,drilling agitator have the API certification.TR solids control is the designed,selling,production,service and delivery of Chinese mud agitator manufacturer. We will provide the high quality drilling fluids agitator and best service.Your best drilling mud tank agitators start from TR solids control.