Mud Centrifugal Pump
Mission Centrifugal Pump mainly supplies to solids control circulating system of oilfield drill rig,and be used to provide drilling liquid with a certain discharge capacity and pressure to sand, desilter and mud mixer,to assure these equipments work efficiently.Mud Centrifugal pump adopts advanced design theory for pumping drilling fluid or industrial suspension (slurry).Drilling mud centrifugal pump can pump abrasive, viscosity and corrosive liquid. We will provide customers with the best products to meet the needs of different conditions.
Advantages of Mud Centrifugal Pump
Spare parts interchangeable with NOV Mission Pump.
Pump shell and impeller wear-resisting material.
Open impeller,apply to transport high viscosity drilling liquid.
Combination seal for a long service life.
Drilling Centrifugal Pump Technical Parameters
Model
Power
Flow
Lift(m)
Efficiency
NPSH
Electric
TRSB8×6-14
75KW
320m3/h
40m
65%
5
50HZ
TRSB8×6-12
355m3/h
43m
66%
4.8
60HZ
TRSB8×6-13
55KW
290m3/h
33m
64%
5.5
50HZ
TRSB6×5-12
196m3/h
48m
61%
3
60HZ
TRSB6×5-13
45KW
180m3/h
34m
60%
3
50HZ
TRSB5×4-14
149m3/h
61m
58%
4.6
60HZ
TRSB6×5-12
37KW
160m3/h
30m
60%
3
50HZ
TRSB5×4-12
112m3/h
45m
58%
4.6
60HZ
TRSB6×5-11
30KW
120m3/h
21m
62%
2.5
50HZ
TRSB5×4-12
112m3/h
37m
57%
4.6
60HZ
TRSB5×4-12
22KW
90m3/h
30m
56%
4.5
50HZ
TRSB5×4-10
105m3/h
30m
57%
4.2
60HZ
TRSB5x4-11
18.5KW
90m3/h
24m
56%
4.5
50HZ
TRSB4x3-12
55m3/h
46m
48%
4
60HZ
TRSB4x3-13
15KW
50m3/h
40m
48%
4.5
50HZ
TRSB4x3-11
54m3/h
35m
47%
4
60HZ
TRSB4x3-12
11KW
45m3/h
30m
47%
4
50HZ
TRSB3x2-12
28m3/h
45m
40%
3.1
60HZ
TRSB3x2-12
7.5KW
45m3/h
24m
46%
4
50HZ
TRSB3x2-11
25m3/h
35m
41%
3.1
60HZ
TRSB3x2-11
5.5KW
20m3/h
23m
39%
3
50HZ
Mission Centrifugal Pump for Drilling Fluids Solids Control
TRSB8×6×14 Missioon centrifugal pump applies to over 3000-meter-long drilling rigs.TRSB8×6×11 Mission Centrifugal Pump applies to under 3000-meter-long drilling rigs,also can be can be used to supply mud to triplex mud pump as a filling pump.The TRSB6×5×11,TRSB5×4×14 centrifugal sand pump applies to truck-mounted drilling rigs or pocket drilling rigs.The TRSB4×3×13 Drilling mud centrifugal pump is usually used as measuring pump or replenishment pump.The TRSB3×2×13 centrifugal sand pump is usually used as clean water pump.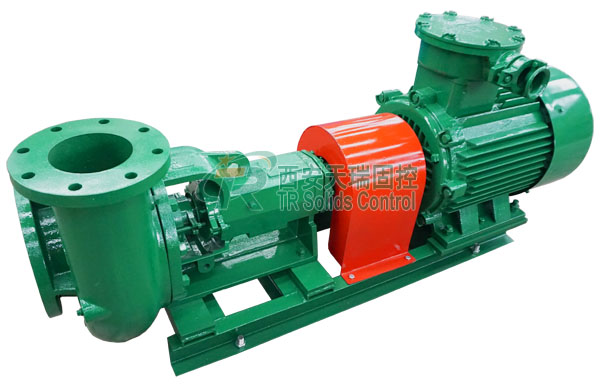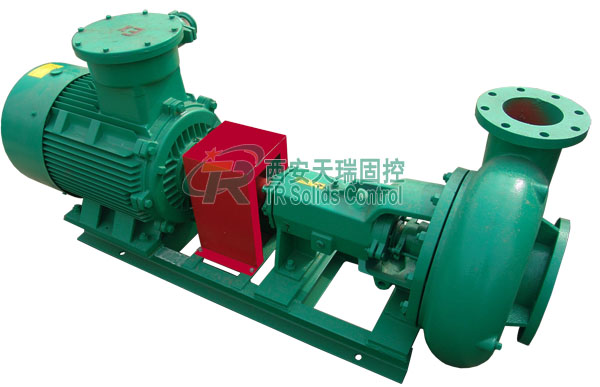 Mud Centrifugal pump is often used for desander and desilter mud supply system, in the oil and gas drilling plays a very important role.Mud Centrifugal Pump in horizontal directional crossing and role in the process of slurry shield also no less.
TR solids control manufacture the Mud Centrifugal Pump which could replace the Mission pump.
We are an exporter of Mission Centrifugal Pump.Our factory approval the API,Mud Centrifugal Pump have the API certification.TR solids control is the designed,selling,production,service and delivery of Chinese Drilling mud centrifugal pump manufacturer. We will provide the high quality Mud Centrifugal Pump and best service.Your best Mud Centrifugal Pump start from TR solids control.