Vertical Cutting Dryer is a single level continuous working horizontal scraper discharging centrifuge. The TR Vertical Cutting Dryer uses centrifugal force to dry drilled solids in oil or synthetic base fluids.
TR series It can effectively recover the oil components in the drilling chips, and can effectively meet the requirements of curing transportation and meet the requirements of environmental protection standards.A stainless steel screen bowl traps "wet" solids and accelerates them up 900RPM with G force to 420G.Vertical Cutting Dryer is very good.Liquid is forced through the screen bowl openings, while "dry" solids are extracted by the angled flights attached to the cone, which rotate slightly slower than the bowl. Tungsten carbide protects the flights from abrasive solids and ensures long operational life. This aids in maintaining a constant gap between the scroll and screen bowl, which is crucial for proper operation.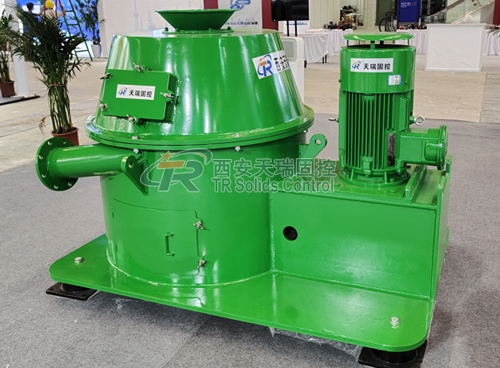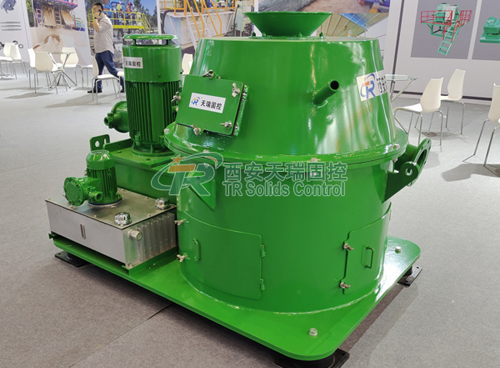 Vertical Cutting Dryer Competitive Advantage
Vertical Cutting Dryer specially designed for drilling cuttings from Oil Based Mud(OBM) and Synthetic-based Mud.

1.G force up to 420 G
TR normal vertical cuttings dryer speed is 900 RPM with G force up to 420 G and VFD drive is optional for adjust the speed.
2.Longer life
The Flights on the rotor is hard facing to HRC 65, longer life than our competitors. The flights and the rotor assembly is individually balanced for future replacement.
3.Longer life and easy replacement
Specially designed highly precise stainless steel screen to ensure your better separation, longer life and easy replacement. The screen itself is individually balanced for future replacement. And the screen is separated from the frame which allows you to change the screen only, not need to change the frame inside.
4.Individual oil lubrication system
Individual oil lubrication system with automatic alarm for pressure limit. The main motor and oil pump motor is interlocked with each other for avoiding the start of the main motor prior to the start of the oil pump motor.
5. VFD cuttings dryer control panel
VFD cuttings dryer control panel is made by stainless steel with Pressurized explosion proof. The PLC smart control allows you to adjust the speed and protect the machine more friendly. The air circulation through the cooling tubes allow you to use the VFD cuttings dryer in high temperature environment. The VFD is ABB or SIEMENS Brand, other main electric components are Schneider or SIENMENS Brand.
Vertical Cutting Dryer Specifications
| | | | | |
| --- | --- | --- | --- | --- |
| Model | TRCD930 | TRCD930-VFD | TRCD730 | TRCD730-VFD |
| Treatment Capacity(Ton/h) | 30~50 | 30~50 | 15~20 | 15~20 |
| Drying Efficiency | ≦5% | ≦5% | ≦5% | ≦5% |
| G-force | 421 | 421 | 357 | 357 |
| Screen Basket Max Diameter(mm) | 930 | 930 | 790 | 790 |
| Screen Basket Gap(mm) | 0.25~0.5 | 0.25~0.5 | 0.25~0.5 | 0.25~0.5 |
| Rotary Speed(rpm) | 900 | 0~900 | 900 | 0~900 |
| Oil tank capacity(L) | 60 | 60 | 60 | 60 |
| Main Motor Power(kW) | 55 | 55 | 22 | 22 |
| Oil Pump Power(kW) | 0.55 | 0.55 | 0.55 | 0.55 |
| Washer Pump Power(kW) | 4 | 4 | 4 | 4 |
| Explosive-proof standard | EXdIIBt4/IECEX/A-TEX | EXdIIBt4/IECEX/A-TEX | EXdIIBt4/IECEX/A-TEX | EXdIIBt4/IECEX/A-TEX |
| Explosive-proof cabinet | STD | EXD | STD | EXD |
| Weight(kg) | 4750 | 5000 | 3000 | 3200 |
| Dimensions(mm) | 2500x1650x1800 | 2500x1650x1800 | 1950x1370x1550 | 1950x1370x1550 |
Vertical Cutting Dryer and Decanting Centrifuges used in drilling waste management system.Drilling waste management is a common name for drilling cuttings treatment, also known as drilling fluid non-grounding.Drilling Cuttings Waste Management System is used for taking drilling fluids from the drilling cuttings and clean the fluids for resuse. It is to maximize the recycling of drilling fluids, and minimize the drilling waste in order to save cost for operators.The TR Vertical Cutting Dryer uses centrifugal force to dry drilled solids in oil or synthetic base fluids